The Moshling Book
is a feature what opens when a moshling is caught, it can also be accessed by the zoo by clicking a moshling name. The Moshling book features a clear picture of a moshling, the habitat, likes, dislikes, bio and even species. The book also displays what moshlings are currently in your room. The book appears to be brown/greenish with gold-plated corners, you can also see multi-coloured (mainly purple) bookmarks.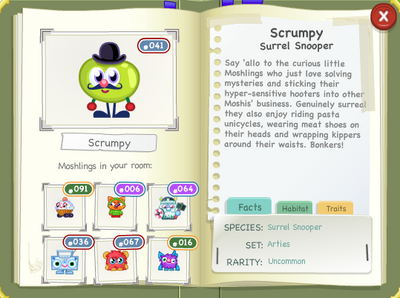 Ad blocker interference detected!
Wikia is a free-to-use site that makes money from advertising. We have a modified experience for viewers using ad blockers

Wikia is not accessible if you've made further modifications. Remove the custom ad blocker rule(s) and the page will load as expected.