The Great Moshi Beanstalk


Information
Name
The Great Moshi Beanstalk
Start Date
August 5th, 2013
End Date
Still playable
The Great Moshi Beanstalk
is an event that was held on August 5th. The beanstalk is still on the map, implying that it will be permanent.
Trailer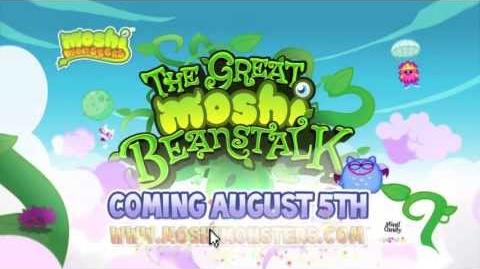 Rewards
Twaddleton
Grinchester
Lolly Landing
Cloud Kingdom
Beanstalk Bounce

Beanstalk Bounce is the mini-game you play to progress up the beanstalk. You have 4 different modes to play in, each one using the Moshlings you collect (Ect. Weeny, Grinny, Slurpy, Twaddle)
Gallery
Beanstalk
Locations
Artwork
"What's New" Advertisments
Homepage Advertisments
Ad blocker interference detected!
Wikia is a free-to-use site that makes money from advertising. We have a modified experience for viewers using ad blockers

Wikia is not accessible if you've made further modifications. Remove the custom ad blocker rule(s) and the page will load as expected.