Spewy i
s a different version of Dewy, just a different name, and colour. He was found during the Moshi Fest, selling Zack Binspin Merch.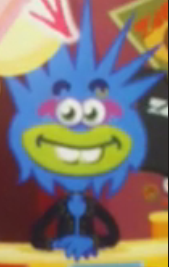 Bio
A dedicated un-follower of fashion, Spewy is often mistaken for his cousin, Dewy. But unlike Dewy, this spiky-furred monster sells his goods at festivals all over the world of Moshi. Well, it helps pay for all that gooey hair gel.
Ad blocker interference detected!
Wikia is a free-to-use site that makes money from advertising. We have a modified experience for viewers using ad blockers

Wikia is not accessible if you've made further modifications. Remove the custom ad blocker rule(s) and the page will load as expected.