ShiShi
 the Sneezing Panda is an ultra rare 
Moshling
 in the 
Beasties
 set.
Personality
Biography
Aah-choo! These eyelash-fluttering Moshlings are obsessed with watching Monstrovision, but it makes them sneeze. Lots. My research suggests that they might be allergic to all those itty-bitty pixels. Or maybe it's the wamwoo shoots they scoff by the bucket-load. 
Combination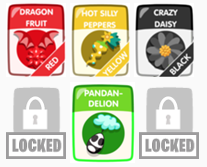 Likes
Channel-hopping and extra soft tissues.
Dislikes
Pepper and "We interupt this program!" newsflashes.
Habitat
Originally from Gogglebulch Gulch, these snuffly channel sufers will live anywhere as long as there is a big screen, comfy chair and a big remote control. 
Trivia
She features in the Series 1 Figures
She is based off of the YouTube Hit, Sneezing Panda.
Gallery
In-Game
Merchandise
Ad blocker interference detected!
Wikia is a free-to-use site that makes money from advertising. We have a modified experience for viewers using ad blockers

Wikia is not accessible if you've made further modifications. Remove the custom ad blocker rule(s) and the page will load as expected.