Pipsi
 the Fizzical Phewberry is an ultra rare
Moshling
in the
Fruities
set.
Personality 
Obsessive, driven, and engergetic.
Biography 
Ready for a workout? Good because Fizzical Phewberries are obsessed with keeping fit. Whether it's star jumps at breakfast time, push ups in the park or touching toes at teatime, these sweet Moshlings are always encouraging the citizens of Monstro City to stay active.
Combination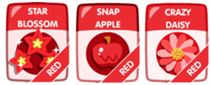 Likes
Exercising videos and star jumps.
Dislikes
Sitting around and carbs before bedtime.
Habitat
You'll always find a few Fizzical Phewberries working out in Bubba's Gym but they are rumoured to come from Cardiofornia.
Ad blocker interference detected!
Wikia is a free-to-use site that makes money from advertising. We have a modified experience for viewers using ad blockers

Wikia is not accessible if you've made further modifications. Remove the custom ad blocker rule(s) and the page will load as expected.