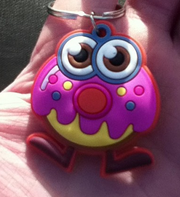 Moshling Keyrings are real life items, they are obviously keyrings in the shape of Moshlings, they were introduced in Moshi Mags and there is currently no other way to get them unless bought from Amazon, Ebay or any other second-hand online store. They are made from a plastic-rubbery material and have an unpleasant smell.
Current Ones
Ad blocker interference detected!
Wikia is a free-to-use site that makes money from advertising. We have a modified experience for viewers using ad blockers

Wikia is not accessible if you've made further modifications. Remove the custom ad blocker rule(s) and the page will load as expected.