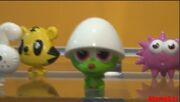 Maga heads are big Moshlings for the Micro Moshi range, bigger then the regular Moshling figures they are for the new micro moshi range. They have a little hatch that can open and close, they come with a mystery Moshling so you don't know who you are going to get! Each Mega Head comes with a certain Micro Moshi, if you got two Roxy's, you would get the same Micro Moshi. They are currently £2.00 at British toy stores such as Argos, The Entertainer and WHSmiths.
Mega Heads
Ad blocker interference detected!
Wikia is a free-to-use site that makes money from advertising. We have a modified experience for viewers using ad blockers

Wikia is not accessible if you've made further modifications. Remove the custom ad blocker rule(s) and the page will load as expected.