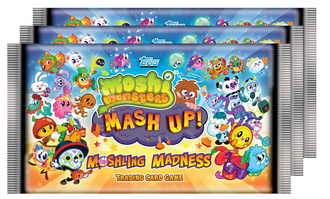 Moshi Monsters Mash Up: Moshling Madness is set to release on September 5th, 2013. They have a bunch of new moshling cards, along with old ones. (EX: Linton , Hoolio , Splatter , Oddie , Lady Meowford )
Most stores started selling them earlier, like Tesco.
Cards
There are over 200 cards to collect, with new Holographic Cards, along with Mirror Foil and Rainbow Foil cards. Also, they have a special Moshling Card to redeem for a online moshling!
Gallery
Ad blocker interference detected!
Wikia is a free-to-use site that makes money from advertising. We have a modified experience for viewers using ad blockers

Wikia is not accessible if you've made further modifications. Remove the custom ad blocker rule(s) and the page will load as expected.