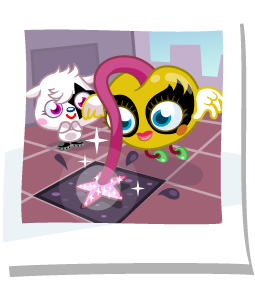 Missi Tinkles
is a Luvli that plays the keyboard and is a member of The Fizzbangs. She is possible best friends with
Avril LaScream
.
Appearance
Missi Tinkles; a custard-yellow Luvli completes her look with her baby-yellow, angelic wings and black, flame makeup surrounding her eyes. Below her eyes are her browny-orange dimples. She has burgundy, stringy legs, connected to her feet which are covered by her light-green shoes. She has luscious, bright-pink lips and a light-purple stalk on which she has her sparkly, purple star. 
Ad blocker interference detected!
Wikia is a free-to-use site that makes money from advertising. We have a modified experience for viewers using ad blockers

Wikia is not accessible if you've made further modifications. Remove the custom ad blocker rule(s) and the page will load as expected.