The Market Place is a mini-mall on Sludge Street located next to Horrods, there are six clothing stores inside, one for each Monster. The building appears to be grey brick and has a red-wooden tiled roof. There is a green banner hanging across the building saying "Now Open!", there are two windows which are a light blue and there is four visible stone columns and there may be some more around the edges.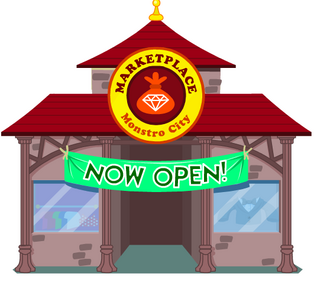 Shops
Diavlo Duds
Poppet's Closet
Zommer's Drop Dead Threads
Furi Fashion
Katsuma Klothes
Luvli Looks
Ad blocker interference detected!
Wikia is a free-to-use site that makes money from advertising. We have a modified experience for viewers using ad blockers

Wikia is not accessible if you've made further modifications. Remove the custom ad blocker rule(s) and the page will load as expected.