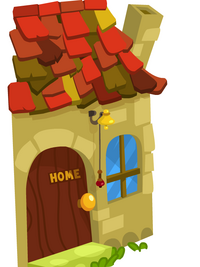 Home is your starting point in Moshi Monsters, after you logged in. You can customize it with items you purchased in Yukea, Bizzar Bizzar, Cap'n Bucks Boat, DYIs shop, Super Moshi Merch, Bazs Barnacles and Paws and Claws. You can also feed and tickle your monster, and go to the outside to extend your house, only if you're a member, from the New Houses shop on Ooh La Lane.
Ad blocker interference detected!
Wikia is a free-to-use site that makes money from advertising. We have a modified experience for viewers using ad blockers

Wikia is not accessible if you've made further modifications. Remove the custom ad blocker rule(s) and the page will load as expected.