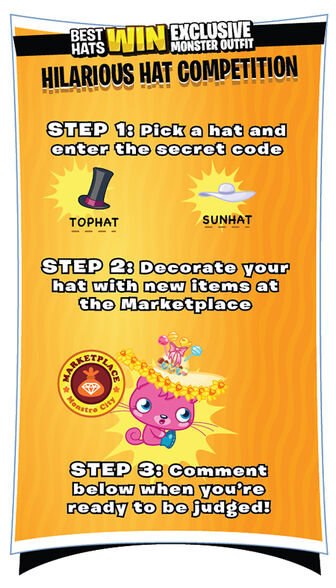 The
Hilarious Hat Competition
was an Easter event that taken place in April 2013, it started on April 4th and ended on April 9th. Free codes were given out for hat bases and monsters had to buy items from the Market Place to decorate their hats with. After decorating and wearing the hats, monsters then had to comment on a Daily Growl blog to enter this competition. The winners were announced on the 11th of April and were each given an exclusive Bunny Outfit.
Known Winners
Brantan3478
Bubbachubba1914
Liberty7124
Bradie8080
Terra-Beam
CoolChloe08
Niamhisabelle
Rainbowladybird29
Ad blocker interference detected!
Wikia is a free-to-use site that makes money from advertising. We have a modified experience for viewers using ad blockers

Wikia is not accessible if you've made further modifications. Remove the custom ad blocker rule(s) and the page will load as expected.