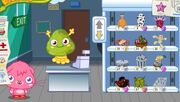 The
Gross-ery Store
is where most of the food products are brought, the others being obtained by MoPod code. The shop is owned by Snozzle Wobbleson, the products change every 15 minutes, just like every other shop, so check back to get the rarest foods. Some of the products are released for a short period of time for special events.

Ad blocker interference detected!
Wikia is a free-to-use site that makes money from advertising. We have a modified experience for viewers using ad blockers

Wikia is not accessible if you've made further modifications. Remove the custom ad blocker rule(s) and the page will load as expected.