Grinny/Basic Info

Set
Smilies
Number
142
Species
Persuasive Pusskin
Rarity
Common
Grinny
the Persuavive Pusskin is a cat Moshling in the
Smilies
, hence her huge, nervous smile. She is light purple with yellow stripes. She can turn invisible, still revealing her face, like the Cheshire Cat. She also leaves coloured paw-prints.
Personality
TBA
Bio
With their amazing powers of persuasion, these catty little Moshlings can sweet-talk you into doing almost anything, even against your will. In fact experts believe Persuasive Pusskins can mesmerise monsters with just a slight grin, so take care or you might find yourself fetching a saucer of chocolate milk when you least expect it. Meow!
Combination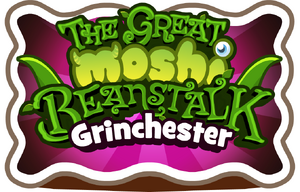 Ad blocker interference detected!
Wikia is a free-to-use site that makes money from advertising. We have a modified experience for viewers using ad blockers

Wikia is not accessible if you've made further modifications. Remove the custom ad blocker rule(s) and the page will load as expected.