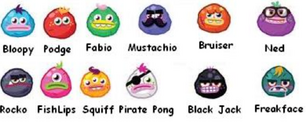 Glumpizitation is the process of Dr. Strangeglove's machine. Strangeglove uses his Glumping machine - which used to be a yellow and clear bit of plastic, really, but is now a purple processor of Glumps - to Glump every Moshling into every Glump, really. It is an evil business - never get mixed up with this (or the Glump-a-tron 3000, even worse) otherwise you could end up with three rabbit teeth, a yellow mouth, a blobby body and a pink quiff. The most popular glump that comes out of the machine is Bloopy.
Ad blocker interference detected!
Wikia is a free-to-use site that makes money from advertising. We have a modified experience for viewers using ad blockers

Wikia is not accessible if you've made further modifications. Remove the custom ad blocker rule(s) and the page will load as expected.