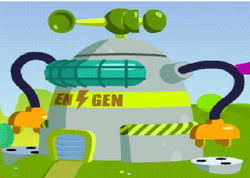 En-Gen is a game found on Main Street. Dizzee Bolt is seen here, in the game itself. It is a parody of the word, "Engine"
How To Play
Players spin coloured blocks to generate Monstrowatts. When four or more blocks of the same colour are connected, points are gained and the Power Meter rises. The game ends when the Power Meter is fully depleted.
Ad blocker interference detected!
Wikia is a free-to-use site that makes money from advertising. We have a modified experience for viewers using ad blockers

Wikia is not accessible if you've made further modifications. Remove the custom ad blocker rule(s) and the page will load as expected.