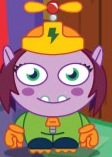 Dizzee Bolt
is the character you control when you play En-Gen. She has total control over Ken Tickles and Bjorn Squish, both of which are trying to be her favourite roarker. Dizzee is the boss of all roarkers and created her very own eco-friendly invention for earth day in the Moshi Monsters Annual 2012 - the propeller hat,
Ad blocker interference detected!
Wikia is a free-to-use site that makes money from advertising. We have a modified experience for viewers using ad blockers

Wikia is not accessible if you've made further modifications. Remove the custom ad blocker rule(s) and the page will load as expected.