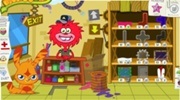 The Do It Yourself Shop (abbreviated DIY Shop) is a local shop located in Sludge Street . It has various kinds of wallpapers (e.g. sky wallpaper), doors, windows and floors with numerous designs. The current owner is Dewy , a red monster who prefers uncleanliness. The DIY shop is known for its handy objects, stunning wallpaper, crazy type doors and elegant floor.
Location
The DIY shop is located in Sludge Street next to the well known, classical Horrods. Its situated in a downhill, next to the rushing river and near the Moshi Fun Park .
Items 
Various different WINDOWS
BUILDING BLOCKS only sold at the DIY Shop
Various different WALLPAPERS and FLOORS
Other ITEMS that can be built by you
Furniture and Decorations
Ad blocker interference detected!
Wikia is a free-to-use site that makes money from advertising. We have a modified experience for viewers using ad blockers

Wikia is not accessible if you've made further modifications. Remove the custom ad blocker rule(s) and the page will load as expected.