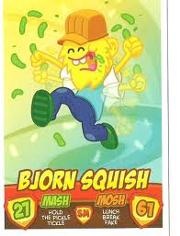 Bjorn Squish
is a lazy, sandwich-snacking roarker that is usually seen sitting on a tree stump, on the Main Street near the construction area. The other roarker is Bjorn's friend, Ken Tickles. He is often seen eating a sandwich (again) on the Moshi Monsters Maintenance site with Ken, discussing what is happening.
He always impresses his boss, Dizzee Bolt, who you control when you play En-Gen, by giving her his fangtastic sandwiches, that earns him the whole day off so he can sit around, eating and eating and eating.....
Ad blocker interference detected!
Wikia is a free-to-use site that makes money from advertising. We have a modified experience for viewers using ad blockers

Wikia is not accessible if you've made further modifications. Remove the custom ad blocker rule(s) and the page will load as expected.