Auntie Wobbleson
is the Moshi Food Vendor in the Moshi Fest. You can get all sorts of food from her to satisfy your growling tummy!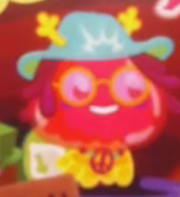 Descripton
Is it a cauliflower trapped in a balloon or an alien sponge squished into a mitten? Don't be silly, it's Auntie Snozzle and when she's not busy nagging her nephew Snozzle, she enjoys selling yucky homemade snacks on her stall.
Ad blocker interference detected!
Wikia is a free-to-use site that makes money from advertising. We have a modified experience for viewers using ad blockers

Wikia is not accessible if you've made further modifications. Remove the custom ad blocker rule(s) and the page will load as expected.